1.
At the official screening of The Tree of Life on Monday, cameras turned to Sean Penn, Jessica Chastain, and Brad Pitt while their director was nowhere to be seen. The three actors – stoic, upright, barely cracking a smile (consistent with the expectation that we were about to see a serious work of art) – waved for a bit and took their seats ; a plain-clothed Mick Jagger strolled by, hardly noticed ; and the show was ready to start. At the end the same ritual was repeated, except this time Thierry Fremaux appeared in the center aisle to introduce a certain someone... It took a few beats for the audience to realize who he was, but when they did the applause intensified a few notches. Pitt and Chastain were visibly moved to see the grayed, portly Malick in attendance, and were flabbergasted as he darted out of the room as quickly as he came. The cameramen in the auditorium were instructed to put their equipment down as the filmmaker entered, so if the video is ever released, the rug of the Lumière theater will briefly appear as the star of the evening.
2.
Outside the Palais Stephanie on Wednesday, I ran into a member of the official competition jury. The person – who, bien sûr, will remain anonymous – asked me how I was, and I replied : "Still shivering from the Malick." Responding enthusiastically, the juror said, "Me too !" (This was followed by the obligatory "Oops ! I should keep my mouth shut" expression). Plugging away, I asked Mr/Mrs Juror what the chances are Tree of Life wins something. The answer was not promising : "It's going to be difficult."
3.
Some Malick crew members have been hanging out on the Croisette. According to one of them, who flashed me a few snaps of the mysterious filmmaker from his iPhone, The Tree of Life was shot four years ago and cost more than 150 million. I'm not sure if this is consistent with other reports that are out, but it's fascinating anyway. Lately I'm of the opinion that the less we know about Malick's productions, the better… It was more than ten years after The Thin Red Line that the film's editors, for example, gave some insight into their experience of its making on the recent Criterion Collection release. My favorite story related in those DVD bonuses is about Malick spending most of the time while he was still engaged in the editing of the film listening to Green Day albums on a Sony walkman… Hardly the Malick that we imagine when we see something as lyrical and delicate as The Tree of Life.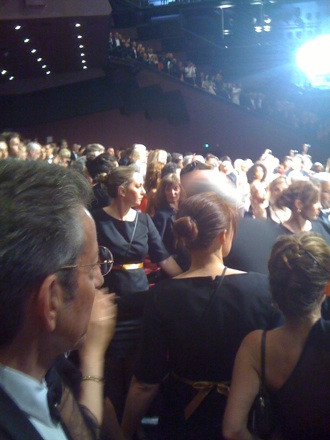 That blurry white mass of hair racing by (center frame, slightly to the right) is the elusive author of Badlands and The Tree of Life the evening Lumière screening.