Adieu au langage, or Farewell to Language, is being released in the States on September 29th following its New York Film Festival screening. (It's being released under the translation Goodbye to Language, but there's as much a difference between "farewell" and "goodbye" as there is between "adieu" and "au revoir.") After exiting the Cannes screening (the greatest experience of my life ?), I ran into Danny Kasman and we chatted but it was definitely, at that moment for us, goodbye to language ; luckily a few days later he got it together in spades and posted this magnificent appraisal at The Notebook. A couple minutes after, and then again a few days later, I had a chance to talk about the movie a little with Kent Jones, and some of what he expressed made it into his piece in Film Comment which is another must-read, here.

With the tickets for the upcoming NYFF screening having sold out within two minutes, it's unlikely I'll be at Lincoln Center for the film's US premiere (I'll be seeing it over and over and over again during its regular run) ; but whether you're seeing it there or elsewhere (or, God forbid, have been sitting on the fence), you should, if you haven't already, check out Kent's words on the film in this interview at the Film Society at Lincoln Center website (he's the director and head programmer of the NYFF) here, where he has the following to say about the Godard :
"When I think of The 400 Blows, for instance, I see it's a movie about childhood, but it's a film that's not made from the perspective of childhood. It's looking closely at childhood from the perspective of wisdom. Breathless, on the other hand, is a movie from the perspective of youthful energy. That's what it is, and then at the same time, Goodbye to Language is made from an old man's energy. It feels very youthful. [...]
"Hans Hurch, the director of the Viennale ... said [he was surprised Godard made a film in 3D]. He saw Jean-Marie Straub two years ago, I think, and Straub was in Rolle, Switzerland, which is where Godard lives. He visited Godard, who was ill for the first two weeks he was there, and saw some of what he was working on and was flabbergasted. He was very doubtful. He is a guy who's not known to embrace everything. He said it was like watching some new form of montage.
"Last year in Cannes, there was an omnibus film with three 3D films and one of them was by Godard [Les trois Désastres]. It was something he had been working on that was related to the feature and he had crafted a short out of it. I could not see it because I needed a cataract operation in my right eye, but it looked great from what I could tell. Everybody anticipated Goodbye to Language last year and it wasn't done, and we did the Godard retrospective last year and that would have been great, but it just wasn't ready.
"So in Cannes this year, that was one of the most heavily trafficked screenings of the entire festival. I got there really early and I have a pretty good pass, and I was up in the balcony — on the side. I wrote about this in my Film Comment coverage — in the middle of the movie there's a shot in which two 3D perspectives — both sides of the 3-D image are used, are separate and then they converge. I don't know how he did it. I would have to see the movie a couple more times to figure it out, but it got a round of applause in the middle of the movie, it was just fantastic. It's not a surprise that he did 3D. He said that one of the reasons he was drawn to do it was because there were no rules."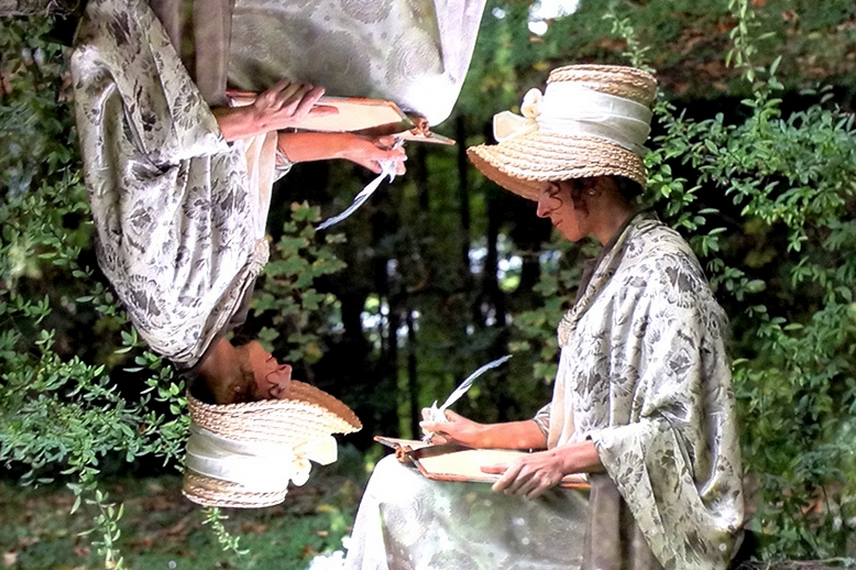 The NYFF52 schedule description (likely written by Kent) reads : "The 43rd feature by Jean-Luc Godard (and the only film at the 2014 Cannes Film Festival to get a round of applause mid-screening), Goodbye to Language alights on doubt and despair with the greatest freedom and joy. At 83, Godard works as a truly independent filmmaker, unencumbered by all concerns beyond the immediate : to create a work that embodies his own state of being in relation to time, light, color, the problem of living and speaking with others, and, of course, cinema itself. The artist's beloved dog Roxy is the de facto "star" of this film, which is as impossible to summarize as a poem by Wallace Stevens or a Messiaen quartet. Goodbye to Language was shot, and can only be truly seen and experienced, in 3D, which Godard has put to wondrous use. The temptation may be strong to see this film as a farewell, but this remarkable artist is already hard at work on a new project."
Before getting to the main feature of this post, I have to point out the absolutely exemplary piece that the great David Bordwell posted about the film earlier today, entitled 2 + 2 x 3D. A must-read-some-of before you see the film, and a must-read-all-of after. It's right here. ("Godard's Adieu au langage is the best new film I've seen this year, and the best 3D film I've ever seen." He takes off from there.) Relevant frames (in 2D, naturally) from the film posted below are taken from Bordwell's own piece.
Now without further ado —